About Us
The Royal Falkland Islands Police uphold Falkland Islands law (a combination of local ordinances and adopted English Statute Law) and are governed by the Police Ordinance 2000. The main statute law is contained in two major ordinances; The Criminal Procedure and Evidence Ordinance 2014 and the Crimes Ordinance 2014.
The Royal Falkland Islands Police currently has an establishment of 12 Police Constables, 3 Detective Constables, 8 Reserve Police Constables (similar to UK special constables but paid), 2 uniform Sergeants, a Detective Sergeant, an Inspector and a Superintendent who is the Chief Police Officer. Four  police support staff are employed. There is the Senior Clerk, a Licensing Officer, and two Station Enquiry Officers.
The islands' prison is contained within the police building, up to November 2014 this was staffed by police officers. However the service has evolved, and now has a dedicated prison manager and four prison officers.
All military police serving with the Joint Service Police & Security Unit (JSPSU) of British Forces South Atlantic are sworn in as Royal Falkland Islands Police Reserve Constables and gain civil as well as military police powers while deployed on the islands.
An islands-wide service is provided with 24-hour cover. The police control room maintains a listening watch on marine and civilian emergency radio frequencies and is where all "999" emergency calls are taken and processed.
Police equipment is purchased directly from a variety of overseas suppliers. Officers do not ordinarily carry firearms however they are issued with, and trained in the use of Speedcuffs, CapTor 2 spray and an extendable "ASP" baton, and X26 Taser. The force has two Mitsubishi Shogun liveried MPV's and two unmarked Land Rover 110's, which are used by the CID.  Equipment issued to officers and practices employed by the force try where possible to meet or exceed Home Office and Chief Police Officers Council guidelines.
Training is delivered both locally and through either sending officers overseas or bringing trainers to the islands.
The force is going through a modernisation programme and is making progress towards providing the islands with a police force fit for the challenges a developing economy and community brings.
~ MISSION STATEMENT ~

The Royal Falkland Island police (RFIP) is committed to protecting the life style enjoyed in the Falkland Islands and keeping these islands a safe place to live, work, and visit.
We endeavour to work with our communities and for our communities with other professionals and agencies to deliver this vision and maintaining the safe and secure society we all enjoy, allowing all to contribute their part.
The values guiding us; Respect, Integrity, and Fairness requires of every member of RFIP a commitment to put public safety and victim care foremost, thereby ensuring our quality and way of life continues with the support of a professional modern community focused police service.
The progress in delivering our vision must always be underpinned by our values and guided by our Legislative Assembly in the overall Island Plan.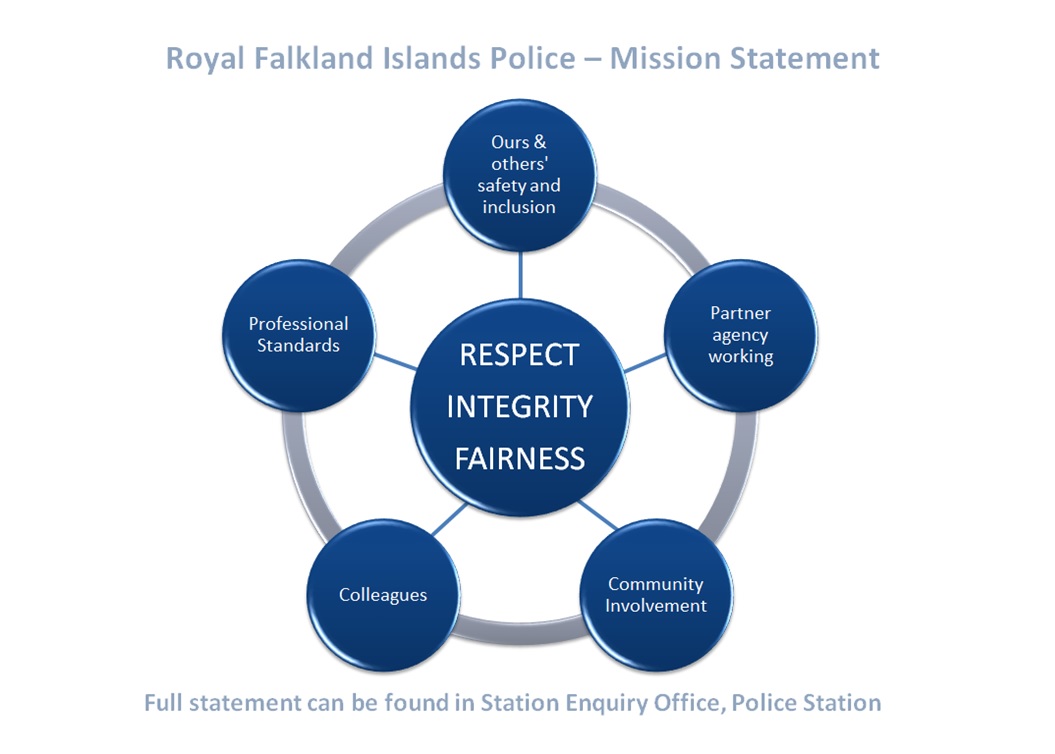 ~ RFIP Values are defined as ~


INTEGRITY
We act lawfully, ethically, firmly and with accountability, maintaining the highest standards of professionalism
FAIRNESS
We act fairly, impartially, and just without fear or favour, aspiring to meet and exceed the expectations of our community.
RESPECT
We respect the rights of all persons regardless of sex, sexual orientation, race, colour, language, religion, age, mental or physical disability.
Our interactions are courteous, whilst remaining resolute.